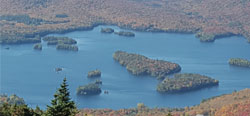 Six Million acres of Adirondack Park surround our pristine lakes, mountain ranges, and quaint towns, hamlets and villages. Like anywhere, there is much history here and many different things to do and see.
We are not located on water front, but are approximately 2-12 miles from the surrounding lakes, hiking trails, snowmobile trails, museums, white water rafting, restaurants/taverns/liquor store, and convenient stores.
There is much to do here, in The Heart of the Adirondacks, and we hope you Enjoy Your Stay with Us!!! Some brochures are available in our office lobby way, in your room, and at the Indian Lake Chamber of Commerce, located in the middle of town, next to Chili Nights Restaurant.
It's important to us that our guests are given appropriate information to make their stay as comfortable as possible. See below for full details of our Motel. If you have further questions, please feel free to ask us. We do our best to point you in the right direction.
Policies:
Check-In Time: 3:00pm
Check-Out Time: 11:00am
Minimum age to Register: 18 years or older
Late Check-Out: $25/hour
Quiet Hours: 10:00pm to 8:00am
Office Hours: 5pm to 6pm Flex

Visitors: No more than 2 at a time and NO visitors after Quiet Hours.
Cancellation: One Week Notice is required for July & August, Holidays and Special Events. All other dates require 24 Hour Notice.
Lost or Damaged Keys: $10 Fee per Key.
Parking: Spaces per room--1 Not everyone will be able to park in front of their room due to the layout of the Motel and Parking Area.
ANY & ALL Trailers/Boats/Snowmobile Trailers MUST be declared at time of Check-In, as space is limited.